Outdoor
Matterhorn Alpine Crossing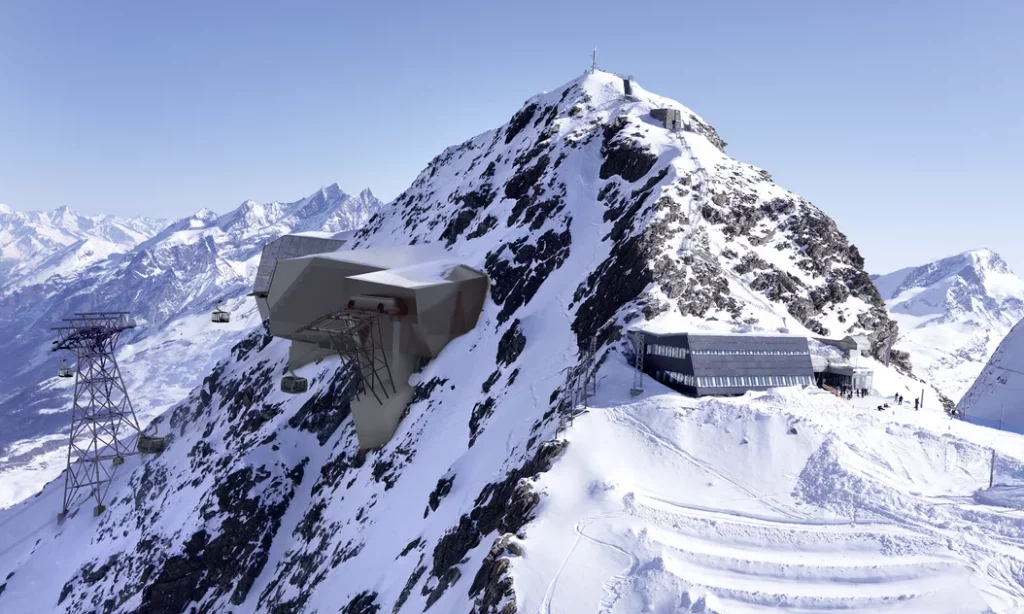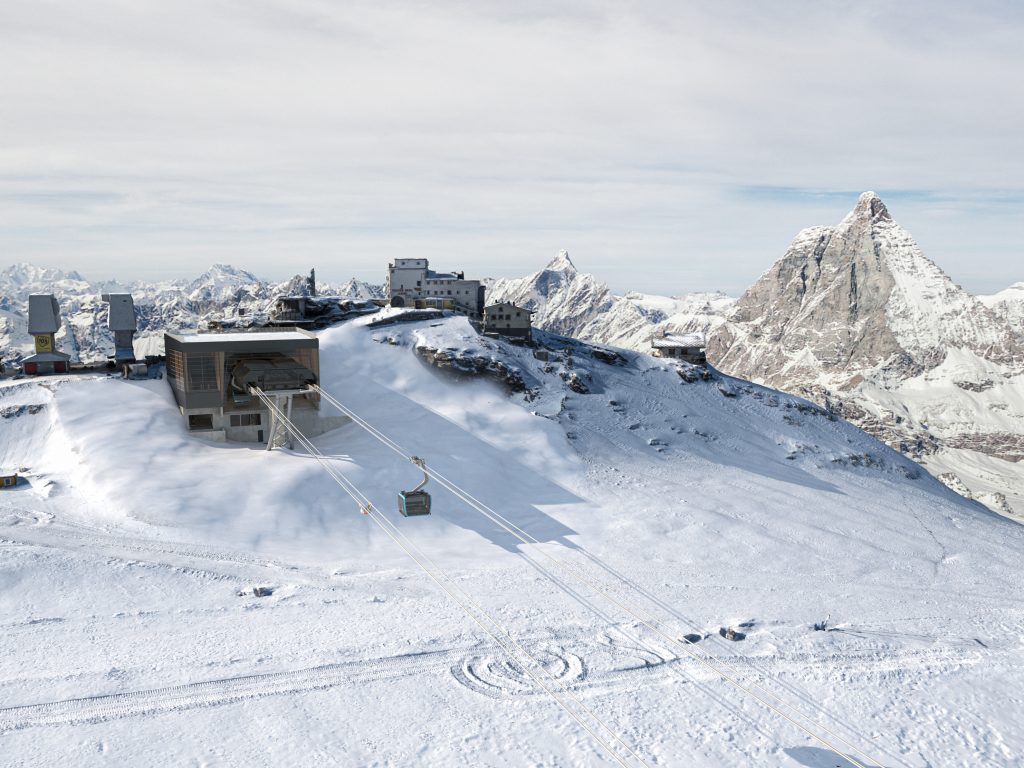 The pioneering Matterhorn Alpine Crossing project is becoming increasingly concrete. The Matterhorn Glacier Ride II will come into operation during spring 2023, thus completing the experience of traveling from Breuil-Cervinia to Zermatt and vice versa through the highest border crossing in the Alps. Thus, starting from the summer season 2023, it will be possible to travel without skis between the two renowned ski resorts, already connected ski
THE MOUNTAIN STATION (Piccolo Cervino)
MATTERHORN GLACIER PARADISE
As with the first part of the 3s cable car project from Trockener Steg to the Little Matterhorn, we will continue with the crystal shape concept, with the aim of optically integrating the station into the rocky wall of the Little Matterhorn. Also the structure of the pavilion, as in the existing station, will be made of wood, which, in addition to giving the stability of the upstream station must also ensure that the building has a good aesthetic impact and transmits a sense of warmth to the observer.
THE VALLEY STATION (Testa Grigia - Plateau Rosà)
SNOW XPERIENCE  PLATEAU ROSA'
The valley station of the Matterhorn Glacier Ride link was built directly along the Italian border, but entirely on Swiss soil. With this station at 3'458 m asl, the gap between Italy and Switzerland will finally be closed. As in the other cable car stations, the Plateau Rosa valley station with its wooden structure is warm and modern. Thanks to the open construction system, daylight penetrates inside the station and conveys to the observer a sense of modernity and lightness. Here, too, Zermatt Bergbahnen wants the new station to be visually in tune with the landscape and perfectly integrated into the environment. The world of experience Snow Xperience Plateau Pink is created all around.
As soon as the Matterhorn Glacier Paradise - Plateau Rosa section is operational, passengers arriving at Plateau Rosa will be able to go directly from the Cime Bianche Laghi - Plateau Rosà cable car to the new trifune cable car towards Matterhorn Glacier Paradise. The stretch between the stations is only a few meters and can be easily traveled even in a wheelchair. This applies not only to the Plateau Rosa station, but also to the entire route between Breuil-Cervinia and Zermatt.
THE NUMBERS
Since last April 2019, the grandiose project of the Matterhorn Alpine Crossing is in the second phase: after the success of the commissioning of the Matterhorn Glacier Ride the event in autumn 2018 only the Matterhorn Glacier Paradise section is missing - Plateau Rosa to connect with the cable car Breuil-Cervinia and Zermatt and vice versa. In the future, a triple cable car identical to the Matterhorn Glacier Ride will ensure this connection. The project is expected to cost around 45 million francs. The connection will allow for the first time to travel without skis from Cervinia to Zermatt and vice versa. If everything goes according to plan, in spring 2023 the first guests will cross the Alps by cable car, without ever losing sight of the Matterhorn.
| | |
| --- | --- |
| DESCRIPTION | |
| VALLEY STATION ALTITUDE | 3'458 metri s.l.m. (Platea Rosà/Testa Grigia) |
| STATION UPSTREAM ALTITUDE | 3'821 metri s.l.m. (Piccolo Cervino) |
| MANUFACTURER OF THE  CABLE CAR | LEITNER |
| HEIGHT DIFFERENCE | 363 metri |
| TRANSPORT CAPACITY | 1'300 persone/ora |
| SPEED | 7.5 m/sec |
| DURATION OF TRAVEL | 4 min |
| NUMBER OF CABINS | 10 |
| CABINS "Crystal Ride" | 2 |
| PERSONS PER CABIN | 28 |
| AZIONAMENTO | LEITNER DirectDrive |
| DESIGN OF THE CABINS | Pininfarina |
| CONSTRUCTION COSTS | CHF 45 m |
| INAUGURATION | 2023 |
Follow our adventures on Cervino Ski Paradise social media